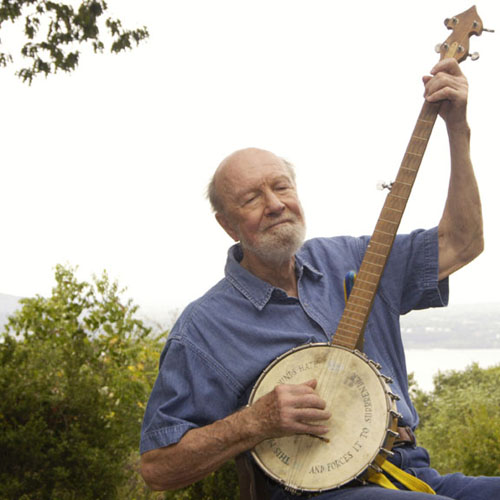 Voici un article pour son 90e anniversaire et un immense concert hommage en préparation ...
90E ANNIVERSAIRE DE SEEGER
Springsteen présidera les festivités
23-03-2009 | 04h00
Bruce Springsteen, Dave Matthews, Eddie Vedder, John Mellencamp et Emmylou Harris sont parmi les douzaines de musiciens qui souligneront le 90e anniversaire de la légende du folk américain Pete Seeger lors d'une soirée spéciale au Madison Square Garden le 3 mai.
Baptisé «The Clearwater Concert: Creating the Next Generation of Environmental Leaders», l'événement servira d'occasion pour faire une collecte de fonds et sensibiliser la population au Hudson River Sloop Clearwater, une organisation environnementale soutenue par Seeger pour la protection du fleuve Hudson.
Les autres artistes prévus sont Steve Earle, Joan Baez, Juanes, Richie Havens, Kris Kirstofferson, Tom Morello, Billy Bragg, Michael Franti et Ben Harper.
La vente anticipée de billets d'American Express pour la soirée commencera le 23 mars tandis que la vente générale au public commencera le 30 mars. Des renseignements supplémentaires sont disponibles sur le site
www.Seeger90.com.
Tel que diffusé antérieurement, le spectacle Madison Square Garden Birthday s'insère dans une série d'événements du 90e de Seeger pour accumuler des fonds pour Clearwater; parmi les autres spectacles, on retrouve le spectacle acoustique de Jeff Tweedy de Wilco en mars et le Clearwater Festival en juin.
Voici la liste complète des artistes qui participeront au «The Clearwater Concert»:
Abigail Washburn and the Sparrow Quartet
Ani DiFranco
Arlo Guthrie
Michael Franti
Bela Fleck
Ben Bridwell (Band of Horses)
Ben Harper
Bernice Johnson Reagon
Billy Bragg
Billy Nershi (String Cheese Incident)
Bruce Cockburn
Bruce Springsteen
Dar Williams
Dave Matthews
Eddie Vedder
Emmylou Harris
Guy Davis
Jay Ungar & Molly Mason
Joan Baez
John Mellencamp
Juanes
Kate & Anna McGarrigle
Keller Williams
Kris Kristofferson
Ladysmith Black Mambazo
Larry Long
Mike & Ruthy Merenda
Native American Indian Cultural Alliance
NYC Labor Chorus
Patterson Hood (Drive-By Truckers)
Preservation Hall Jazz Band with Del McCoury
Ramblin' Jack Elliott
Richie Havens
Scarlet Moore
Silvio Rodriguez
Steve Earle
Taj Mahal
Tao Rodriguez-Seeger
Tom Chapin
Tom Morello (Rage Against the Machine)
Tom Paxton
Tommy Sands
Tony Trischka
Toshi Reagon
Warren Haynes